Generous donors have long-time ties with Congregation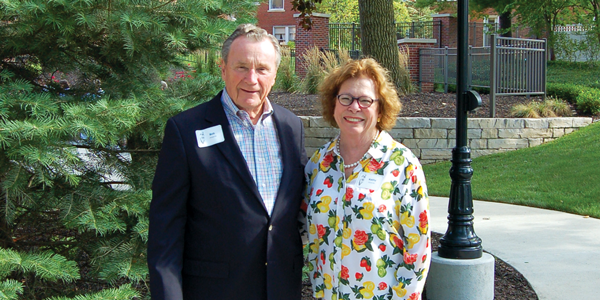 Robert "Bob" and Kathleen "Kathy" Prindiville have a long history with the Adrian Dominican Sisters and, as members of the Heritage Society, they plan for that relationship to reach far into the future.
Decades before they were donors, the Prindivilles had connections with the Adrian Dominican Sisters. Kathy's sister was once an Adrian Dominican Sister, and her two aunts - Sisters Marie Camilla Connery and Michael Joseph Connery - were also members of the Congregation. Kathy's sister, Anne, and Bob's sisters, Margaret "Margie," Marie, and Pat, were all taught by Adrian Dominican Sisters at Mount St. Mary's Academy, a high school in St. Charles, Illinois.
Bob and Kathy have been married for 57 years and have seven children and 21 grandchildren.
Throughout their marriage, the Prindivilles' connections to the Congregation deepened as they donated their skills, knowledge, time, and resources. As a founder of a money management firm specializing in institutions, Bob was invited by former Development Director Sister Patricia McCarty, OP, to help form the Ministry Trust. The Trust funds projects founded, directed, or served by Sisters to fulfill the Congregation's mission.
"I helped to develop a business mind to get the Ministry Trust going," Bob said. He has continued to share his expertise with the Congregation, serving on the Ministry Trust Board and the Finance Advisory Board.
Through their membership in the Heritage Society Bob and Kathy plan to continue contributing to the welfare of the Congregation even after their deaths. The gift of their estate will continue their commitment and make a difference to the Congregation and the people they serve.
"I would encourage anyone who's even thinking of joining the Heritage Society to do so," Bob said. "It's a simple process."
Bob said he also wants people to know of the ministry the Adrian Dominican Sisters provide, "particularly with the elderly and the less fortunate." His hope for the Congregation is that it will continue to care for the elderly Sisters who have given their lives in service. At the same time, he hopes their gift, combined with the gifts of others in the Heritage Society, helps guarantee that the work of the Sisters continues "particularly in the inner cities and with the immigration issues."